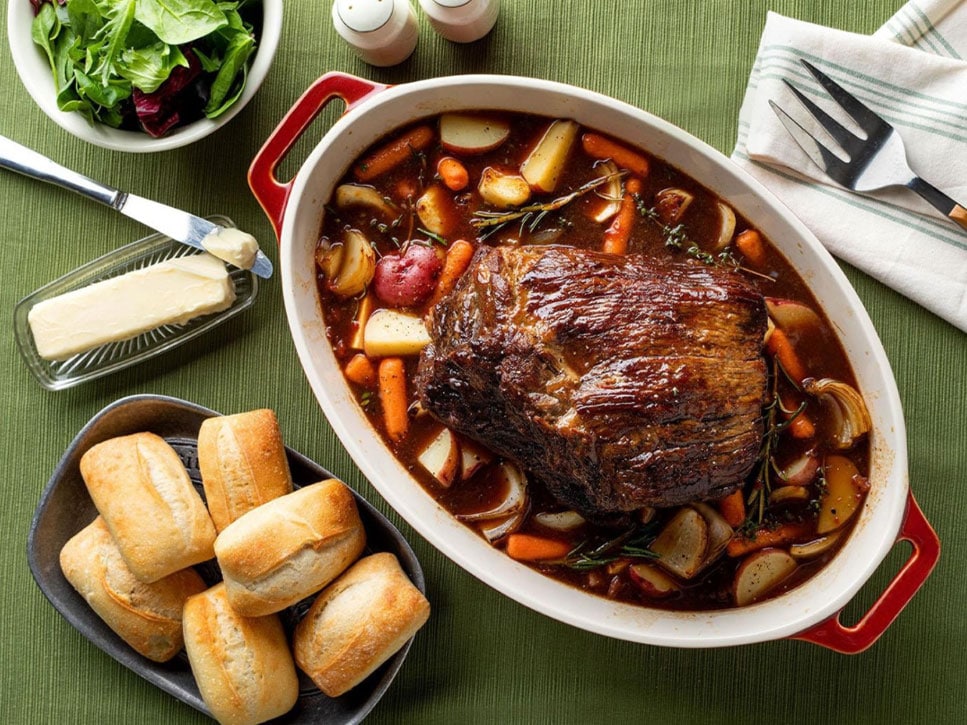 By: Preferred Angus®
Ingredients
3- to 5-pound Preferred Angus® chuck roast (may substitute bottom round, eye of round or sirloin roast if necessary) 

Salt and pepper as needed 

3 tablespoons vegetable oil 

2 medium onions, cut into 1-inch pieces 

1 pound baby carrots 

4 whole cloves fresh garlic 

1½ pounds Yukon Gold potatoes, cut into 1-inch pieces 

1 cup red wine (optional) 

3 cups beef broth 

3 sprigs fresh thyme 

3 sprigs fresh rosemary 
Directions
Preheat oven to 275°F. Salt and pepper roast. 

Heat oil in roasting pan over medium high heat. Sear roast on all sides until brown. Remove roast and set aside. 

Cook onions, garlic and carrots in roasting pan until onions begin to brown. Add wine (optional) or 1 cup beef broth to deglaze the pan. 

Add roast back into pan and add remaining beef broth to cover at least half of roast. Add cut potatoes and fresh herbs and cover with lid. 

Place roasting pan into oven and cook until roast is fall-apart tender. Approximately 3 hours for a 3-pound roast and 4 hours for a 4- to 5-pound roast. Or transfer to crock pot and cook on low until tender, approximately 6 to 8 hours. 

Remove whole herbs and garlic before serving.
Pick up your perfect cut of Preferred Angus® meat at your nearest Foodland to make this delicious dish!